Hancock Park is an affluent and sophisticated residential area with its own unique charm. The neighborhood was developed in 1920, but since then, the town has preserved its original state, regardless of being one of the oldest neighborhoods in Los Angeles.
If you live in Hancock Park or are exploring this place this weekend, add Hancock Park dining to your to-do list. A trip to a new place is incomplete without some good food, and these six Hancock Park restaurants will make sure you don't have regrets!
Great White Restaurant
This fantastic restaurant is a new addition to Hancock Park. Located on Larchmont Boulevard near Hancock Park,
Great White Restaurant
offers quaint charm with some beautiful homes in the neighborhood that you can explore while enjoying some great dishes at this popular dining spot. Eating here reminds me of when I lived in Melbourne Australia, nearly ten years ago. Great White Restaurant is a Venice Beach original that I'm grateful has traveled east!
You will find everything your heart desires at Great White Restaurant, from wood oven pizzas to avocado toasts. If you're visiting during breakfast, dishes such as banana bread, poached egg on toast, breakfast burrito, and chickpea scramble are worth a try.
Other than that, the restaurant offers some tremendous main dishes, such as:


Kale pesto pasta

Steak and frites

Honey ginger chicken

And some delicious sandwiches, tacos, and wraps
You'll find yourself in heaven at the Great White Restaurant if you're a pizza-lover. From truffle fungi to diavola, you'll be spoiled with choices!
The lime panna cotta, chocolate caramel crunch, and sticky date pudding are worth every dollar you spend to satisfy your sweet tooth.
Le Petit Greek
Are you craving authentic Greek food while exploring Hancock Park history during the weekend? Why not visit
Le Petit Greek
? This place has been a part of Hancock Park for many years, and its food quality and customer service have always been excellent.
At Le Petit Greek, you can find dozens of lunch, dinner, and dessert options to satisfy your taste buds. Order the soup of the day or a flatbread pizza for lunch. Featured dinner options include Odyssean, avgolemono, and halloumi.
Of course, you can never go wrong with hummus and pita, but my personal favorite at any Greek restaurant is the Moussaka — a casserole of eggplant, zucchini, potatoes, and ground beef, topped with a Bechamel sauce. Divine!
Le Petit Greek also offers family meals and provides the facility of ordering online. You can also choose a delivery or pickup option to enjoy your food in the comfort of your new Hancock Park residence.
Osteria La Buca
Los Angeles is home to many fantastic Italian restaurants, and among them,
Osteria La Buca
is worth your time and money. This place offers both dine-in and take-out, which is a plus for anyone looking to enjoy the best dishes without leaving their Hancock Park luxury home. Candidly, we usually order take-out from here (thanks Covid), and the food always travels very well especially the pasta!
So, what's on the menu? This restaurant will take your tastebuds to Italy without paying for an expensive flight ticket, from divine starters to pizzas and meat dishes. If you're a pasta person, you can choose between Nero Spaghetti and Tagliatelle. The Scarpinocc pasta is also an excellent choice for butternut squash fans.


One of the best things about Osteria La Buca is that it doesn't disappoint with unique wines and cocktails. If you love seasonal drinks, the variety is enormous and fulfilling. Similarly, from red to white and bubble wine, you will easily find a perfect drink to complement your main dish.
Republique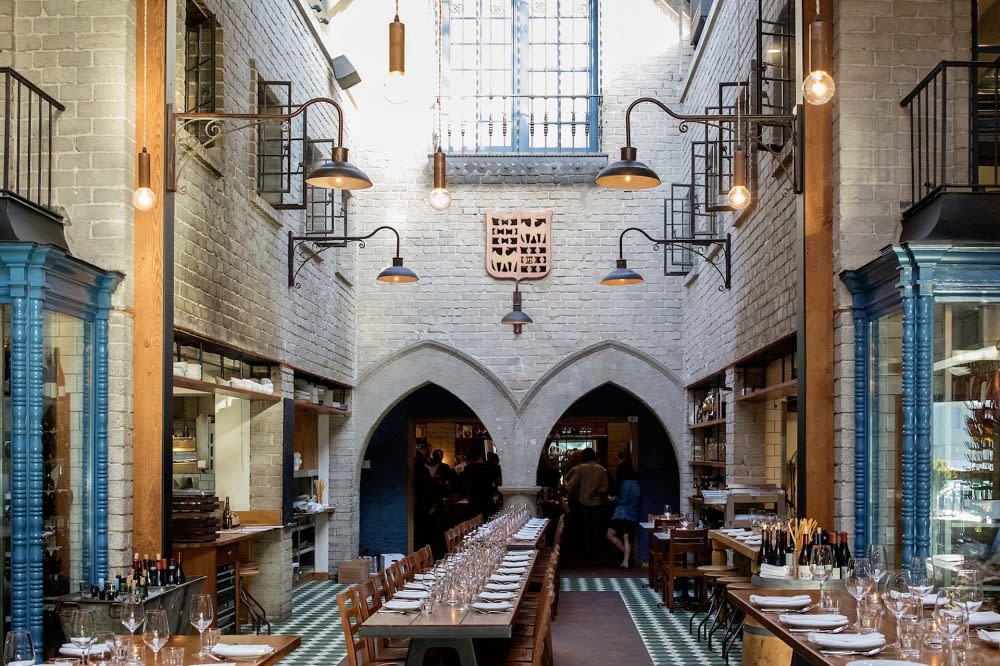 Located on South La Brea Avenue,
Republique
is the food venture of Margarita Manzke and Chefs Walter. This restaurant resides in a beautiful historic building, which gives this place a grandeur and gastronomic environment.
This beautiful destination has a café, bar, and bakery with a casual dining area where you can sit to enjoy the French-inspired menu. Here are a few delicious things you will find on the menu.
For breakfast, you can enjoy the beautiful French omelet, brioche French toast, shakshuka, or a roasted vegetable frittata

Lunch options are usually light and contain plenty of salads and soups

The café also serves fantastic smoothies such as the blueberry banana shake and banana chia pudding
If you plan to eat in the restaurant, make a reservation before visiting. Once you're here, you can explore many options, from starters to desserts.
"Eggs on toast" and brillat savarin are the two starters worth sampling

Roasted pumpkin risotto and butternut squash agnolotti is the perfect light lunch option

For the cheese-lover in you, the Pleasant Ridge Reserve and Tulip Tree Trillium will satisfy your cravings for a long time

From strawberry tiramisu to dark chocolate mi cuit, the delicious dessert options are (literally) the cherry on top of your excellent meal
Osteria Mozza
What's next on the menu? While you're busy finding homes in Hancock Park for sale with the best realtor, take a break for some treats at
Osteria Mozza
. Owned by Nancy Silverton, this restaurant is located in the heart of Los Angeles and offers a fine dining experience.
Osteria Mozza is quite appealing in many ways. It offers a unique mozzarella bar and presents great dishes such as the burratina Pugliese, mozzarella di bufala, burrata and bacon, burrata and braised leek.
Besides the varieties above, you can also explore different food options at the restaurant.
Nancy's Caesar: Do you want to mix and chop your caesar salad yourself? Try Nancy's Caesar and create a crunchy salad with chives, anchovies, boiled eggs, and braised leeks.



Ricotta and egg raviolo: This dish is quite appealing, especially the combination of ricotta and the brown butter sauce. It is one of the favorite dishes to try at this place, courtesy of the fresh ingredients and flavor combinations.



Crispy duck confit: Are you looking for a meaty main dish? In that case, the crispy duck confit won't disappoint. With crispy skin and a juicy interior, you will be in salty and delicious food heaven with this dish!
Osteria Mozza also serves those with a sweet tooth. Their gelato sorbetto selezioni and torta della nonna are hard to find. The cioccolato is a decadent dessert made with a bittersweet chocolate cake if you want to settle your chocolate cravings.
Ramen Jinya
If you want to dine solo or find a restaurant in Hancock Park for a lunch date,
Ramen Jinya
is the perfect place. This restaurant has over 25 locations in North America, clearly reflecting its popularity throughout the continent.
So, what is so special about this place that you shouldn't miss a visit? This is an excellent Japanese restaurant offering the best out-of-this-world ramen. In addition, only one visit to this dining spot will encourage you to try ramen every day! There are many things to explore on their extensive menu — with dozens of different varieties of ramen available, from spicy, creamy vegan ramen to chicken ramen and spicy umami miso ramen, this is the go-to ramen destination in Hancock Park.
What's more, the restaurant offers a range of salads, including seaweed salad and house salad. There are also exciting rice bowl and curry options, especially for those who prefer spicy food. After a good and hearty meal at this restaurant, enjoy some panna cotta and mochi ice cream before you bid farewell, only to come back again.
While the historic homes in Hancock Park have their own classic charm and style, you can't deny the restaurants here provide fantastic dining experiences hard to find anywhere else. If you're looking for homes for sale in Hancock Park, contact expert local real estate agent
Jen Winston
. Allow Jen to help you find a luxury home in the neighborhood, where you can find the best eateries to hang out and spend some time with family and friends. Contact Jen today!