Busy careers and even busier families don't often allow for downtime, especially a luxurious spa visit to give you some much-needed recovery. Our schedules are so busy that we sometimes don't even realize how much tension we are holding until we have that free moment to relax.


Every health journal and physician will tell you the importance of having that time for yourself, a time to tune out the world and truly allow your mind and body to rest and recover. The problem we face is finding the time and place to arrive in this state of relaxation.


The bathroom is the one place in almost everyone's home that separates us from the outside world. Developing a space in your Hancock Park real estate that offers a high-end spa experience without the time it takes actually to go to the spa is a savvy (and soothing) investment.
Enjoy relaxation at home with these tips

Turn your bathroom into a spa with a touch of your smartphone

What about a spa relaxes you the minute you walk through its doors? Of course, you're excited to be pampered with a long massage or an exfoliating facial, but there are sounds and smells that create the ambiance of relaxation as soon as you enter the reception area. Even before you put on your plush robe, you feel the release of stress. Music, essential oils, and ambient lighting blend together in a way that immediately releases the tension you hold in your shoulders and neck, and everything slips away except for you.


It's simple to add a few touches to bathrooms in Holmby Hills luxury homes to create a spa-like feeling in minutes. Purchase a therapeutic-grade
essential oil
diffuser and high-grade oils to fill the room full of healing smells. Develop a
playlist
of your favorite mellow music to use during your escape. Instead of the typical candles associated with a relaxing space, consider LED lighting that allows you to select
different colors
to address your needs through light therapies.
Incorporate all of these features with a piece of technology that allows you to set the entire scene with the click of a button or by simply asking Alexa or Google to do it for you. Speakers installed in the
bathroom fan
or throughout the ceiling can be fitted with Bluetooth technology or linked to a smartphone application. Use a smart outlet for your essential oil diffuser and smart switches for your ambient lighting. By linking these features to your smart device, the entire bathroom becomes a spa with one click or a few simple spoken words.
Even if you don't have the time for a long, luxurious escape, you can just take 15 minutes in your own bathroom to reset. Giving your kids 15 minutes in the "spa" can be a wonderful way to calm them down.

Create a relaxing space by removing clutter and adding soothing shades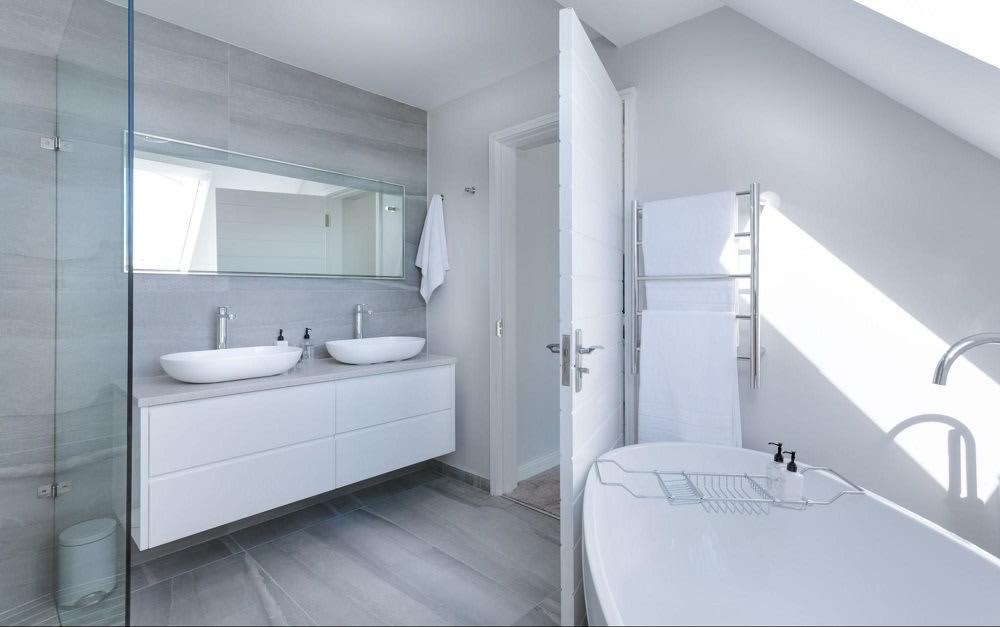 Holmby Hills luxury homes may be beautiful and modern, but if they are filled with clutter, it can be
difficult to relax
. Entering your primary bathroom should make you feel more comfortable, not add stress to your life. Invest in appealing storage containers for items that must sit on your counter, and tuck everything else neatly away into storage spaces like your vanity or linen closet. Make it a habit to keep everything tidy to maintain a decluttered, minimal appearance.
The color of the walls and tiles in your bathroom drastically impact the space's mood. In most spas, the colors are muted and often inspired by nature. Changing out tiles in your Hancock Park real estate may be a larger investment, but it can be worthwhile if you want to capture a true spa environment. Painting the walls is not as intrusive as replacing tiles, but it can have an enormous impact, especially if your bathroom currently features vibrant colors. Switching to warm neutrals or
organic greens
will immediately tone down the space and bring in the relaxation you are craving.
A warm tub or a rain shower — why choose just one?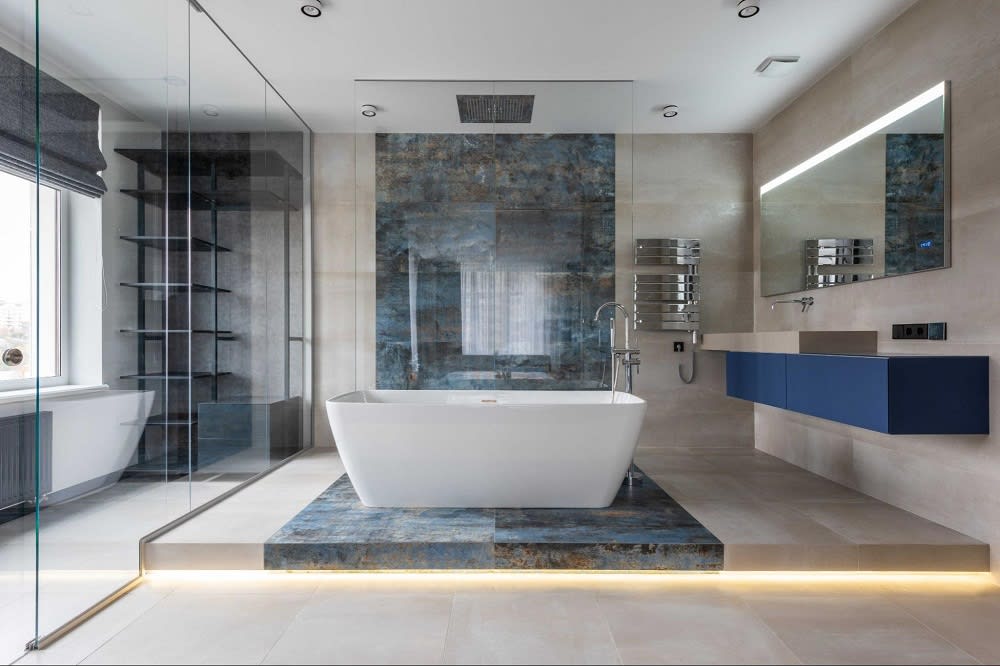 There are times when your body just aches from stress and activity. Some days your body craves slipping into a deep tub full of Epsom salts and water so hot you can barely stand it, and other days you want to feel that same scalding water pouring down over your head and onto your body.
Hancock Park homes for sale may feature a deep soaking tub as a standalone unit. This is a fantastic indulgence when you need that deep soak to decompress. Choose a tub that allows you to fully immerse yourself into the water and feel yourself come back. Space does not always allow homeowners to have a shower and a tub as separate units. Investing in a
shower system
can be as beneficial as that long soak. Multiple body jets will massage any sore body parts while the water rushes over your head like you are standing in warm rain.
Time is a commodity we do not have much of in today's society. Our schedules are busy, and it is difficult to find time for ourselves. Having a space within your home that allows you to escape is necessary for your wellbeing. These simple changes will give you that healing energy you need to keep going with your busy schedule.
Invest in Los Angeles real estate today
Have you decided you'd rather buy a home that already has a spa-like primary bath rather than remodel it? Reach out to trusted Holmby Hills and Hancock Park real estate agent
Jen Winston
for help listing your current home and buying a new one today!